Artificial Grass Installation Port St. Lucie, FL
Let us help you with our Top-Rated Paver Services Today!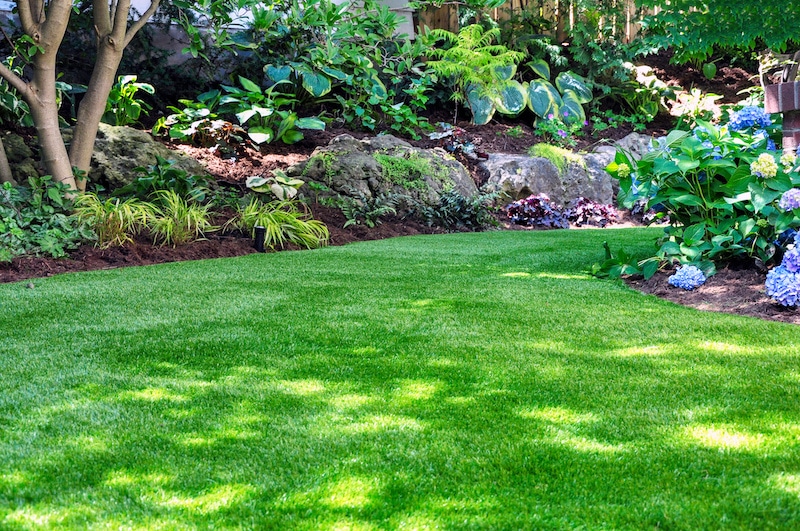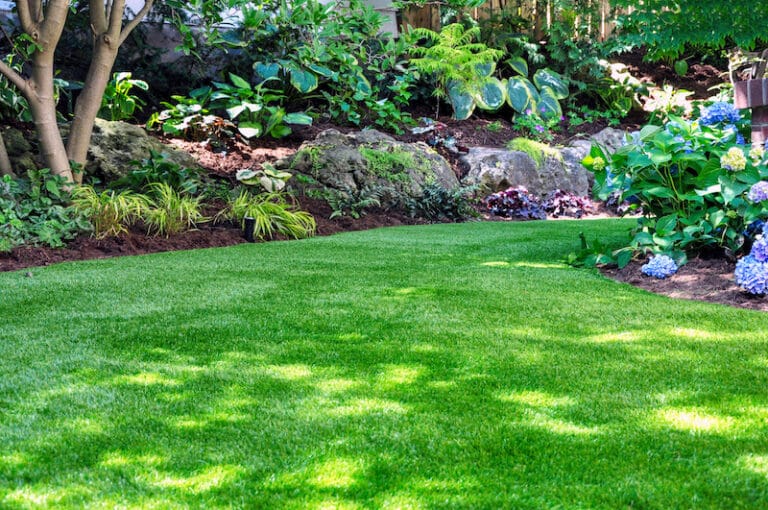 Artificial Grass Installation Port St. Lucie, FL Locals Trust
Beachside Pavers, LLC is your #1 Choice
Do you feel like most of the time all you do is mow your grass? If you feel like all of your weekends are dedicated to tending to your lawn, we may have a solution that could improve that. Artificial grass could be your answer. At Beachside Pavers, LLC, we are the company to turn to for an artificial grass installation in Port St. Lucie, FL. Our artificial grass will resemble real grass minus the hard work that goes into keeping it well-maintained. While artificial grass requires some maintenance to promote longevity, it will cut down the amount of maintenance you're currently doing significantly. You can now have a beautiful yard without dedicating countless hours to mowing and weed pulling. 
Top-Rated Artificial Lawn Installation
Beachside Pavers, LLC Has you covered
Beachside Pavers, LLC is the perfect option for all of your artificial grass service needs. We offer a full range of artificial grass services, such as fake grass installation, repairs, sanding, and power brooming. We aim to become your go-to company for your artificial grass installation and upkeep. When installing your artificial grass, you can rest assured knowing that we only utilize the best practices, products, tools, and methods. We also put a large emphasis on our customer service. Being a family-owned company, we value our customers, and we are dedicated to providing you with a good customer experience. To ensure that the process of your synthetic turf installation goes smoothly, we will be with you every step of the way. To begin, we will start the process with a free estimate where we will go over what you're looking for, check out the space you want to be upgraded to artificial grass, etc. We understand how stressful any home project can be, which is why we will be there throughout the process to answer any of your questions or concerns you may have to make this process go as smoothly as possible.
When it comes to your lawn, its appearance matters. It's important that your artificial lawn installation goes well and it's properly installed. If your fake grass is installed incorrectly, it could cost you more money in the long run in repairs. Having your synthetic grass installation done right the first time falls on hiring the right company. Luckily, you don't have to look too far to find the right company for your fake grass installation in Port St. Lucie, FL. You can trust that your lawn is in good hands with us. We will treat your lawn and property with respect, and we will work as if we were installing grass on our lawn.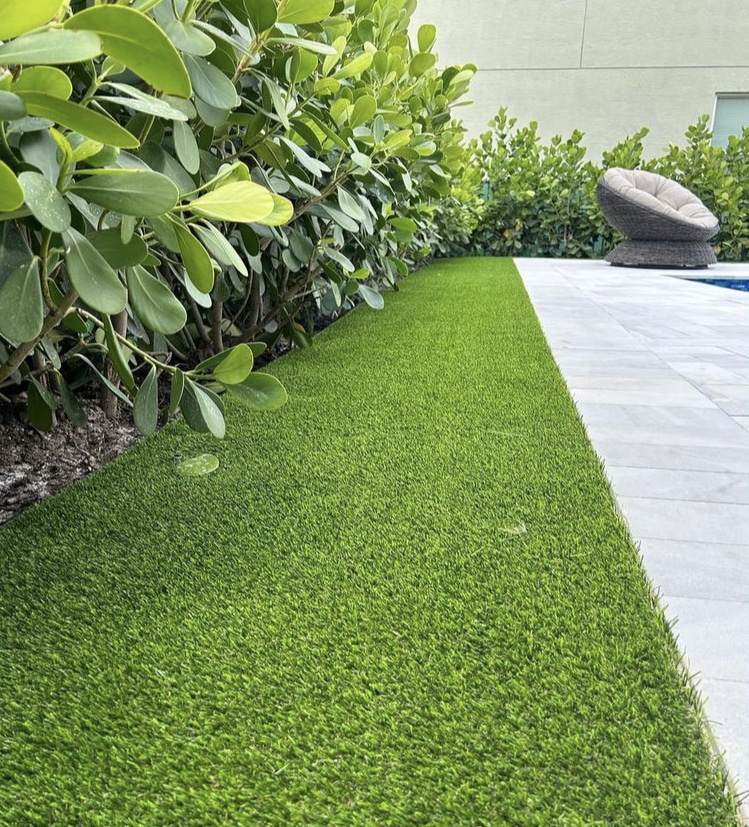 <! -- Lazy Loading Instructions Simply add data-elfsight-app-lazy before the closing div tag For an example see the placeholder code below. -->
Paver Services in Port St. Lucie, FL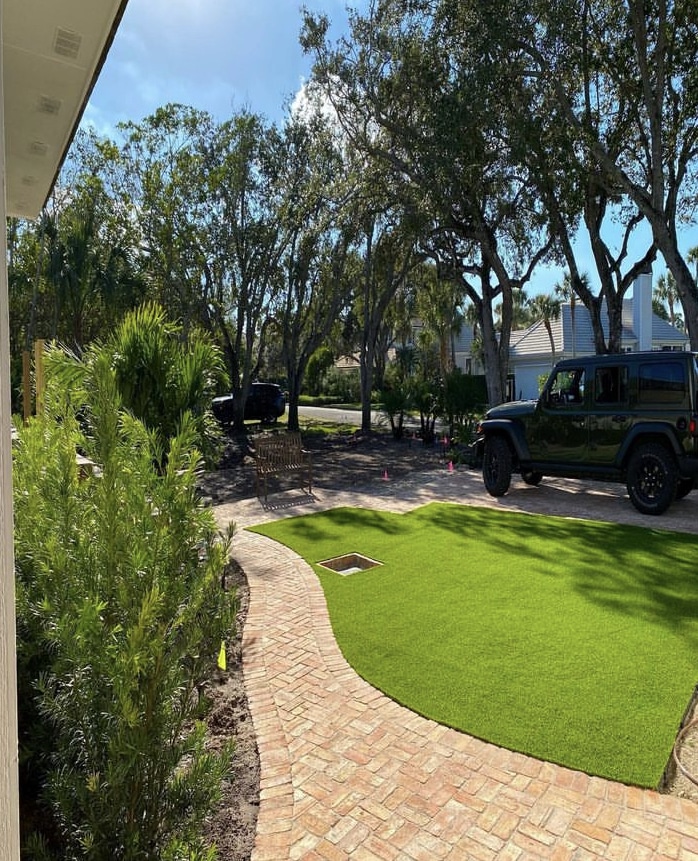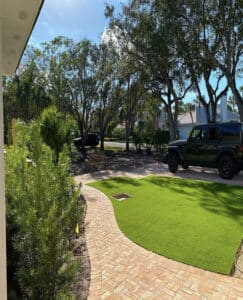 Enhancing Your Lawn With Our Turf Grass Installation
Beachside Pavers, LLC Is All you Need
As a homeowner, you likely have a vision of what you want your landscaping to look like. When it comes to your grass, it can be challenging to get the perfect lawn, especially with the amount of work you have to put in to get the desired results. For a healthy and lush lawn, you have to pull weeds, mow, water, and fertilize your lawn quite frequently. This can be extremely time-consuming, but it doesn't have to be. You can get the perfect lawn that you envision yourself having without putting in all of that work with our turf grass installation. Artificial grass is quite underrated, as it's come a long way over the years. While it was mainly used for sports fields in the past, it has branched out and become popular for a variety of different uses. Artificial grass can be used for a wide range of things, such as; play areas, putting greens, pet play areas, turf strips, etc. The artificial grass we use comes in a variety of textures to mimic real grass and give it a more natural look. While you will still need to keep up with some maintenance to ensure that your grass continues to look great and lasts a long time, the maintenance needed is very minimal. You will also conserve quite a bit of water if you currently regularly water your lawn. You'll be surprised by the difference in your water bill after you've installed artificial grass. The advantages of installing artificial turf are incredible, and you'll enjoy having a lot more free time in your schedule instead of cutting your grass practically every weekend.
Looking For Port St. Lucie Artificial Turf Companies Near Me? Contact Us Today!
Beachside Pavers, LLC Is All you Need
If you're interested in upgrading your lawn with durable, low-maintenance, and realistic-looking artificial grass, Beachside Pavers, LLC is here to help! You no longer need to look for Port St. Lucie artificial turf companies near me when you have a team like ours on your side. To learn more about our artificial grass installation services, make sure you contact our team today!